FIRMWARE UPDATE VERSION 1.3
NEW CONTENT: BONUS CAMPAIGN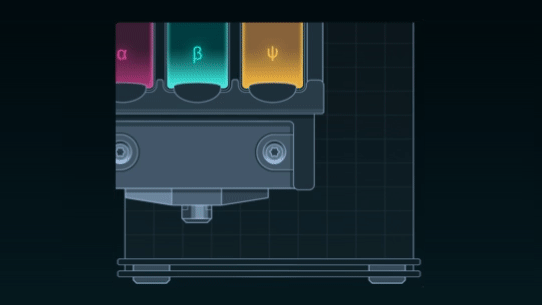 EMBRACE THE FUTURE!
FIRMWARE UPDATE VERSION 1.3 adds a significantly-sized bonus campaign to SHENZHEN I/O, featuring 10 user-inspired puzzles and all-new mechanics, visualizations, datasheets, story, and music.
It's time to haul out your manual and return to the world of SHENZHEN I/O!
NEW PART: MC4010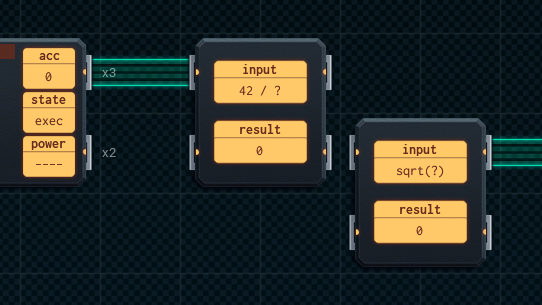 In order to better facilitate your outlandish sandbox projects, the prototyping area now includes the MC4010 math co-processor. Besides providing lightning-fast addition, subtraction, and multiplication, it can also calculate:
Division (and remainder)
Modulus
Exponent
Square root
Min and max
NEW FEATURE: DISPLAY OUTPUTS
Puzzles with LCD screens as outputs, like the drinking game scorekeeper, now use special "display outputs" that allow you to send whatever data you want to the screen... as long as it shows the right thing at the right time.
FULL PATCH NOTES
Not everything we added in this update was cool enough to warrant a screenshot. Here's a list of everything in this update!
NEW CONTENT
Added a new campaign with 10 user-inspired puzzles that is unlocked at the end of the main campaign. If you are using a printed manual, you will need to print the three pages added to the end of the Supplemental Data section.
Added a new puzzle to the main campaign based on one of Zach's failed business ideas from before he started Zachtronics.
Added the MC4010 math co-processor to the prototyping area, which adds advanced math operations not found on the MC4000 and MC6000 microcontrollers.
OTHER CHANGES
Added support for display outputs, which allow you to send whatever you want to LCDs in puzzles so long as it shows the right thing at the right time.
Reworked the drinking game scorekeeper and precision food scale puzzles to use display outputs.
One of the outputs on AND/OR/XOR logic gates is now automatically inverted.
The secret puzzle (which was previously accessible by clicking on Zach's portrait in the in-game Early Access email) is now accessible through a secret code in the "puzzle archive".
MANUAL UPDATES
LC70Gxx SIMPLE I/O LOGIC GATE FAMILY
MC4010 MATH CO-PROCESSOR
SUSHIROBO RESTAURANT / KITCHEN PRELIMINARY DESIGN
THORIUM SALT REACTOR CUSTOM LCD
MASS PRODUCTION OF A NEURAL PROCESSING LATTICE